You already own a pair of snow boots and and a durable winter coat. While that might seem like enough, the reality is to really survive winter you'll want a few extra essentials on hand. Heated ice scrapers and storm-proof covers, for instance, can help get rid of snow and ice buildup on your car windshield and save you from the headache of cleaning your ride every morning. And hand warmers, heated scarves and touchscreen gloves help make your time outdoors skiing, tailgating or snow shoveling a bit more bearable, even as the temperatures nose dive into the negatives.
So unless you're escaping the Northeast completely this winter, the next best option to getting through the next few months is to stock up on a few of these seasonal essentials below. And ahead of Black Friday, shoppers can enjoy an extra 15% off all of the already discounted products when they use the code SAVE15NOV at checkout.
Get the Saltnets Snow & Ice Melting Mat for $33.99 (Reg. $49) with promo code SAVE15NOV
When it comes to shoveling your doorstep, using SaltNets makes it as hands-off a process as it gets. This mat can melt away snow and ice on contact, without ever relying on electricity or overusing corrosive agents, making it an especially safe option for pet owners.
Get the Magnetic Car Snowshield: 2-Pack for $16.14 (Reg. $69) with promo code SAVE15NOV
You could spend your mornings scraping your car windshield clean from frost and ice, or you could just place this Magnetic Car Snowshield on your window. When you remove the cover, you'll also be easily removing any ice or snow that has built-up overnight — no scraping required.
Get the Heated Ice Scraper With Flashlight for $15.29 (Reg. $34) with promo code SAVE15NOV
And if you do settle for an ice scraper, make sure its a heated design (like the one pictured above). It plugs into your car's standard lighter jack to melt away any ice that's left on your dash. It even has a built-in a rubber squeegee to wipe down any extra water that's left behind.
Get the Instant Reusable Handwarmers: 10-Pack for $15.29 (Reg. $25) with promo code SAVE15NOV
The next time you're tailgating, going on a hike or doing any outdoor activity that requires you to stand outside for a few hours on end, pack one of these gel handwarmers in your pocket. They instantly heat up to provide you with immediate warmth, and can also be reused over time.
Get the SUSTAIN Sport Heated Scarf for $68.84 (Reg. $99) with promo code SAVE15NOV
Another instant heating accessory that tops our list is the SUSTAIN Sport Heated Scarf. In a matter of seconds — 15 to be exact — it can provide you with constant warmth to your neck. It even adapts to sudden drops in temperature so that you can stay completely cozy even as the weather takes a turn for the worst.
Get the Classic Magnetic iceScreen for $21.24 (Reg. $29) with promo code SAVE15NOV
Ice, snow, frost and hail have nothing on the Classic Magnetic iceScreen. It is constructed from military-grade, waterproof polyester that keeps your windshield protected from the elements. And with its gel-padded magnets and storm straps, it can stay firmly in place during intense winter forecasts.
Get the Insta Heater 600W Plug-In Wall Heater for $21.24 (Reg. $36) with promo code SAVE15NOV
If there's a spot in your home that's particularly drafty, consider plugging in the Insta Heater into a nearby outlet. This compact device works similarly to a space heater, circulating heat efficiently around your space so that you can warm up quickly.
Get the Egloo All-in-1 Oil Diffuser, Humidifier & Space Heater for $135.96 (Reg. $180) with promo code SAVE15NOV
Most humidifiers can skillfully circulate moisture around your home. Some double as oil diffusers, emitting therapeutic scents, too. But very few designs boast three functions in one. Consider the Egloo a triple threat: With its heating function, it can heat, scent and humidify your abode.
7V Heated Windblocker SL Gloves (Extra Small) for $114.74 (Reg. $150) with promo code SAVE15NOW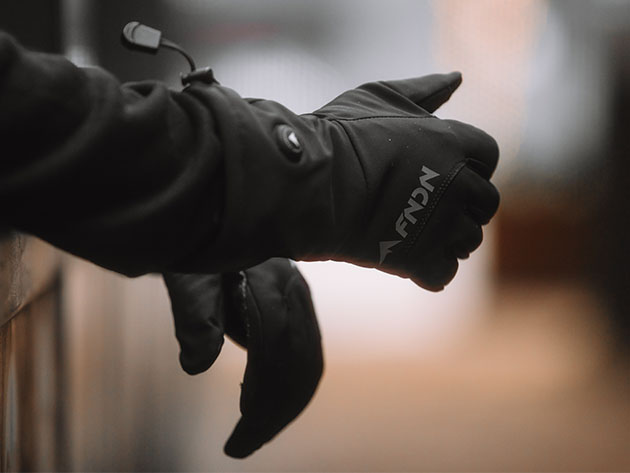 Nor'Easters demand protective wardrobes, especially items like the 7V Heated Windblocker SL Gloves. This design can withstand the elements while also ensuring you fingers stay nice and toasty thanks to its three different heating settings and wind-blocking exterior.
Get the Heated Unisex Gloves for $101.99 (Reg. $140) with promo code SAVE15NOV
Your normal winter gloves are about to get a whole lot more hi-tech. Meet the Heated Unisex Gloves, a thin, yet protective, design that allows users to have full dexterity. And since it is powered by rechargeable batteries, the gloves can give off continuous warmth for over four and a half hours.
Get the Heated Performance Soft Shell Jacket (Small) for $186.99 (Reg. $250) with promo code SAVE15NOV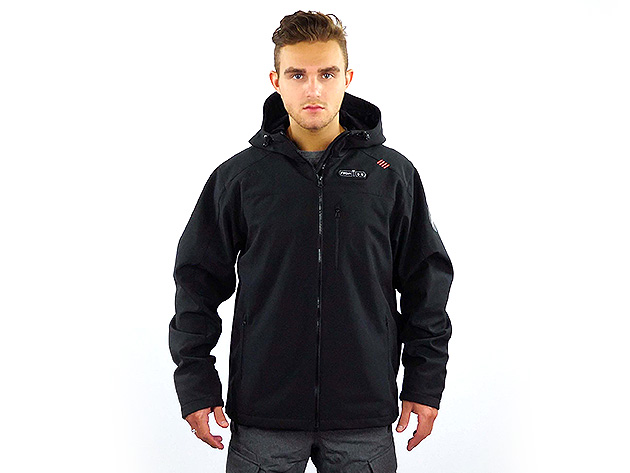 When the weather outside is more frightful than delightful, you'll want a heated jacket like the option above on hand. Not only does it trap heat in, but it also generates it too. It is all powered by a lightweight BENGO battery system, which can warm up your core body areas all with a single button.
Get the PRO 7V Heated Scarf for $89.24 (Reg. $40) with promo code SAVE15NOV
Made with ultra-soft fleece, this rechargeable heated scarf makes for the perfect holiday gift for anyone who always seems to be perpetually cold. As one shopper details, "It was a Christmas gift for my mom who has bad arthritis. Her neck gets really stiff when it's chilly out. She loves the scarf and never leaves the house without it."
Get the 3.7V Heated Daily Gloves (XXS/XS) for $107.94 (Reg. $140) with promo code SAVE15NOV
Winter gloves do wonders when it comes to protecting our fingers from sub-zero temperature, but they typically fall short when it comes to flexibility. They're usually stiff, and as a result make seemingly simple activities like walking our dogs or shoveling snow, a harder task. That's not the case with FNDN's Heated Daily Gloves, which boast a slight stretch that allow you to stay nimble while outdoors.
Get the Insulated Touchscreen Gloves for $18.66 (Reg. $49) with promo code SAVE15NOV
We all know the struggle of being outside, getting a phone call, and needing to take off our gloves and expose our bare hands to the elements in order to actually pick it up. But if you have touchscreen gloves, this problem will soon become a thing of the past. Good news is the pair above are among the biggest discount we've seen so far (over 60% off), making its final price just 19 bucks.
Get the Cold-Weather Leather Gloves (Black) for $29.74 (Reg. $42) with promo code SAVE15NOV
Finally, a pair of leather gloves that won't eat up your entire monthly budget. Right now, a pair of these insulated mitts is on sale for a budget-friendly $29.74.
Get the Naughty Pom Pom Beanie for $21.25 (Reg. $25) with promo code SAVE15NOV
Even the nice people on your holiday list will enjoy this cheeky hat, currently on sale for 15% off. It makes for a fun stocking stuffer and an even better Secret Santa gift.
Get the Nice Pom Pom Beanie for $21.24 (Reg. $25) with promo code SAVE15NOV
And those on the top of Santa's list can show-off their "nice" status with this NY Post-exclusive beanie, now on sale for $21.24.
Get the NoBendz Snow Shovel for $33.99 (Reg. $49) with promo code SAVE15NOV
Shoveling snow, even for a few minutes, feels like an instant recipe for muscle soreness. Hoping to change this is the NoBendz Snow Shovel, an ergonomic shovel that allows you to stand completely upright while hauling away snow from your driveway. That means less pain on your back and less of a chance you'll need to spend the next day with an Icy Hot patch.
Get the Beanie Jam Bluetooth Knit Hat for $21.24 (Reg. $59) with promo code SAVE15NOW
True to its name, the Beanie Jam lets you rock out to your favorite music all while staying snuggly warm. It has headphones built into the design so that you can listen to your favorite tracks for up to 10 hours on a single charge.
Get the Beanie Jam Faux Fur Lined Bluetooth for $21.24 (Reg. $59) with promo code SAVE15NOV
Like knit hat on our list, the Beanie Jam Faux Fur Lined Bluetooth hat provides wireless streaming from your smartphone directly to your winter cap. It boasts long rage connection (up to 32 feet) between you and your device and comes in four crowd-pleasing hues to match your winter wardrobe.
Get the Winter Touch 3-Finger Touchscreen Gloves for $12.74 (Reg. $44) with promo code SAVE15NOW
The most affordable glove pair on our list is this pair of mitts from Winter Essentials. Three of the fingers feature touchscreen compatibility so that you can use your iPhone while wearing the gloves, and a silicone non-slip pam grip ensures that your devices stays firmly in place as you carry it around. Not bad for 12 bucks.
Get the Plug N' Heat Personal Space Heater for $28.04 (Reg. $79) with promo code SAVE15NOV
Winter is coming, and with it comes freezing temperatures. And we're not just talking about the weather outside; If you have a sub-par radiator you could end up feeling just as cold inside your home as you do out. A personal space heater from Plug N'Heat helps keep your bedroom, office space or any other room toasty for up to 12 hours at a time. And its newly-reduced price makes it cheaper than investing in a new cable-knit.
Get the Caldo Heated Jacket for $67.99 (Reg. $249) with promo code SAVE15NOV
With a heating panel made of ultra-fine carbon fiber, the Caldo is as snuggly as any jacket gets. Plus, an insulated layer ensures that all of the warmth produced by its heating technology stays inside the coat for as long as possible.
Get the Serta Microfleece Electric Heated Warming Blanket in Gray for $93.49 (Reg. $149) with the promo code SAVE15NOV
Your next Hallmark Christmas movie night is about to get so much more cozy. Just bundle up under this electric blanket, which boasts non-hazardous, safe heating technology, and you'll soon feel like you're sitting next to a roaring fire even when you're far from it.
Get the iPM Q9 1,000W Space Heater for $50.96 (Reg. $99) with promo code SAVE15NOV
It may look like a wood-burning flame. Heck it might even feel like one, too. But the warmth from the iPM Space Heater is all electric. It comes with an adjustable thermostat so you can customize your heat levels, and with its safety functions, you don't have to worry about overheating or burning when you use it for hours on end.
Get the Cool-to-Touch Digi Heater for $29.74 (Reg. $69) with promo code SAVE15NOV
At just seven inches, the Cool-to-Touch Digi Heater is as compact as any space heater can get. And even so, it can skillfully blast enough energy-smart heating power to warm up an entire room. It is great for those who need an effective heater in their home but have limited floor real estate for a traditional space heater.
Get the Electric Heated Cotton Vest $47.59 (Reg. $69) with the code SAVE15NOV
If jackets aren't your style, maybe a Heated Vest is more your speed. This option provides the same intelligent heating technology like the other sleeved iterations on our list, as well as waterproof design, and even heat distribution. Better yet, its happens to be a far more affordable design, too.
Get the Radiant Bluetooth-Enabled Heated Vest for $144.49 (Reg. $199) with promo code SAVE15NOV
With an overwhelming majority of positive reviews under its belt, it's hard to fault the Radiant Heated Vest. As one current user notes "This vest fits and works great….[it] keeps me comfortable while while sitting for hours and I rarely using more than the low setting." The jacket's newly reduced price tag is just the cherry on top.
Get the Volt Heated Scarf for $55.24 (Reg. $79) with promo code SAVE15NOV
On the surface, the Volt looks like any other scarf. But this accessory boasts 5V heating technology that can provide warmth with a singular push of a button. Right now, users can save an extra $24 on their purchase of the Volt Heated Scarf.
Get the Voltheat Gen IV Heated Slippers for $93.49 (Reg. $149) with promo code SAVE15NOV
We've talked a lot about heated scarves, blankets, jackets. But if you're more concerned with your toes, then a pair of Heated Slippers seems to better suit. Like other heated accessories on our list, it comes with a wireless remote that can activate three different heat settings. In addition, the design boasts memory foam insoles that make the shoes ultra-comfy, so much so that we wouldn't be surprised if you sport these all day long.
View original post