A protest and counterprotest are said to be planned for Saturday morning outside Wi Spa in Los Angeles after a viral video in which an outraged woman complained to staff that a naked man was allowed in a female-only area just because he identified as a woman.
Los Angeles Magazine, citing Twitter users, indicated a protest against the spa is planned for 11 a.m. while counterprotesters are assembling at 10 a.m.
What's the background?
Instagram user cubanaangel — who claimed the cellphone video is hers — wrote the following caption: "NAKED MAN ALLOWED WOMEN DAY SPA. Los Angeles, California. Wi Spa allows a man into women's wet spa section where all the women are naked, mothers with there young daughters and teens. The Wi Spa allowed the man access just because he calls himself a woman. This man was naked [exposing] his testicles and penis slinging left to right in front of young girls, teens, and grown women. What is our world coming to[?]"
The woman recording the clip asked the employee behind the counter, "It's OK for a man to go into the women's section, show his penis around the other women — young little girls, underage? Wi Spa condones that — is that what you're saying?"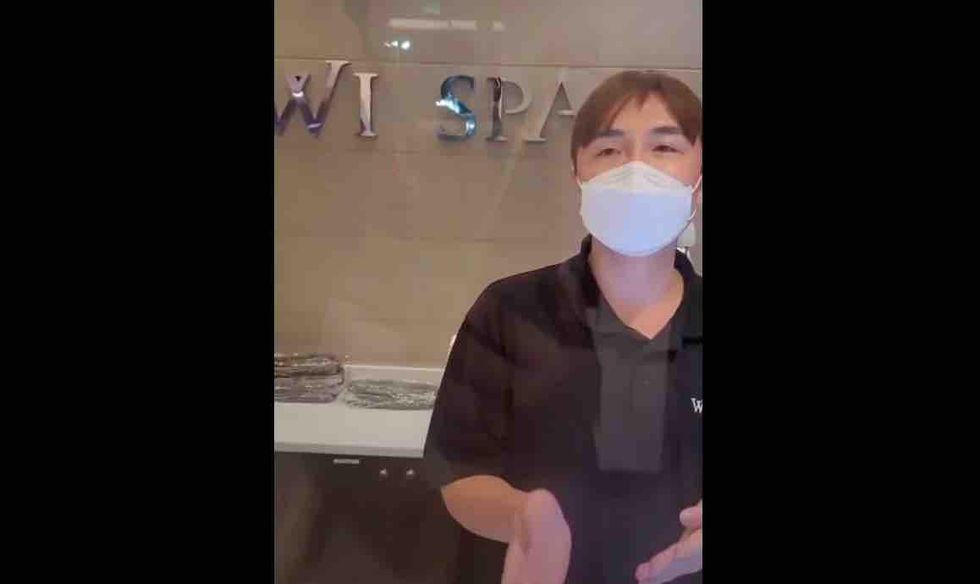 Image source: YouTube screenshot
When the employee made reference to the man's "sexual orientation," the woman replied, "What sexual orientation? I see a d**k! It lets me know he's a man … he is not a female!"
A male customer asserted to the woman recording the video that the man in question might be a "transgender person" — but the woman was in no mood for a woke lesson.
"There's no such thing as transgender!" the woman shot back. "He has a d**k, OK? He has a penis … hanging out … I'm a woman who knows how to stand up and speak up for my rights!"
Her clearly woke adversary began condescendingly smiling at the woman as if she just wasn't up to date regarding right and wrong, circa 2021.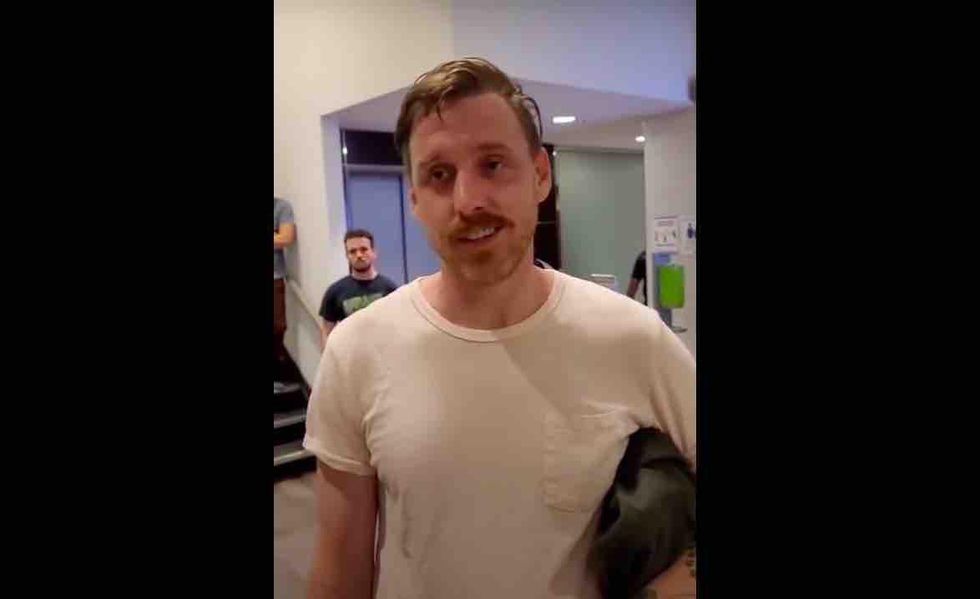 Image source: YouTube screenshot
"As a woman, I have a right to feel comfortable without a man exposing himself, OK?" she asked, before soon ripping into the guy, saying "it must be hard not being a real man."
Another woman, presumably a spa employee, noted that the naked man the woman originally complained about should not have been allowed in the female section. Then the clip ends.



Woman goes ballistic after man enters Wi's Spa in L.A. with penis out in front of women and children

youtu.be

Wi Spa speaks
Los Angeles Magazine said Wi Spa issued a statement pointing to state law prohibiting businesses from discriminating against trans and other gender non-conforming people.
"Like many other metropolitan areas, Los Angeles contains a transgender population, some of whom enjoy visiting a spa," the statement added, according to the magazine. "Wi Spa strives to meet the needs of all its customers."
Anything else?
Fox News contributor Tammy Bruce told Tucker Carlson earlier this week that the LGBTQ community — of which she is a member — is "appalled" by the Wi Spa incident, calling the man in question a "jerk" and "not someone who was looking at their identity and handling situations appropriately."
"My concern here is that the average transgender person — and I have perhaps more transgender friends than some of the people watching the program — they are also appalled," Bruce said, according to Fox News. "This is not what anybody wants for somebody who is going through the complicated experience of changing their gender; that's a serious dynamic, and the last thing you need or you're looking for is a confirmation of using a bathroom or walking in front of a bunch of women and girls to confirm your identity."
She added that "the gay community in particular, certainly the transgender community, has got to tell … the gay political leadership to stop using us as this weapon to try to keep people divided. This has got to stop because none of the transgenders want this."
View original post